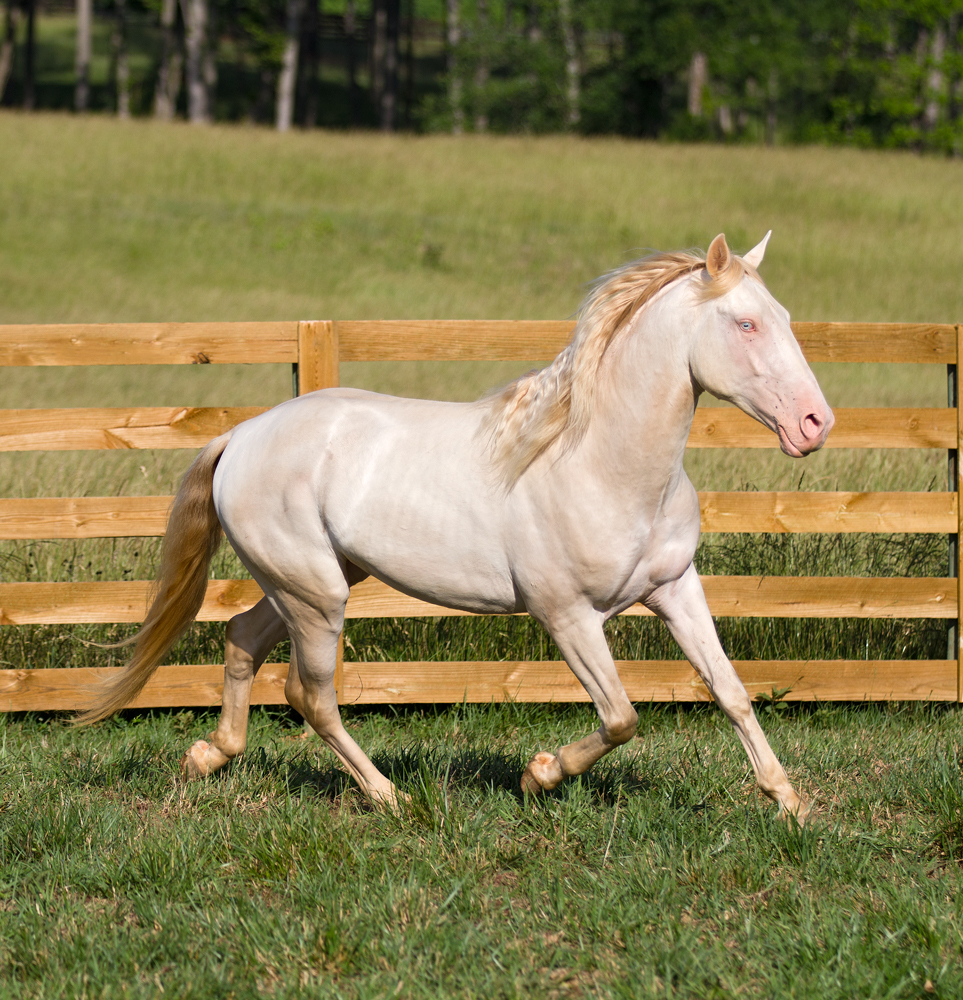 DEM Alabastro
Lusitano Gelding

DOB: October 3, 2007

Alabastro is a gelding that will be as honest as the day is long. He is one of our most athletic horses and has the moves that every Lusitano owner desires from their mount! His dam is our rare smokey cream mare, Te Te Va, and his sire is the impressive buckskin stallion Lusiadas. Alabastro is easy-going, curious, friendly, and has the most amazing iridescent mother of pearl coat the just glistens in the sun! As he fills out and matures, he is bound to be breathtaking!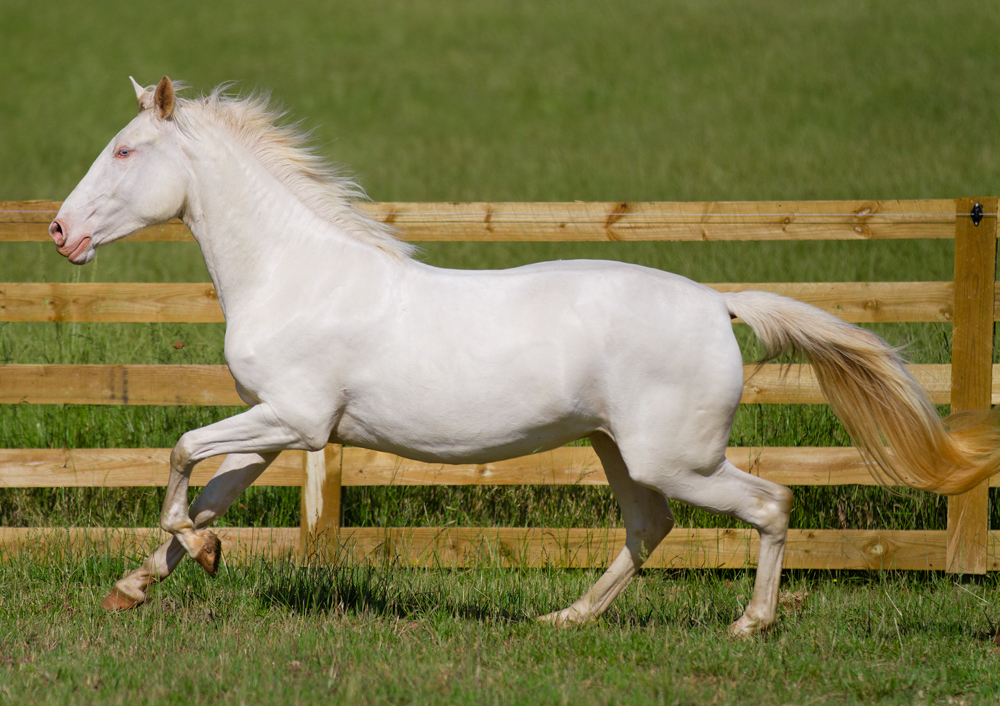 DEM Cremebrule
Lusitano Mare

DOB: August 8, 2007

Cremebrule is a rare Isabella cremelo mare who moves with a dream-like, floating gracefulness through the fields. Cremebrule is personable and promises to be a magnificent lifetime riding partner. For any breeding program, "Bru" will contribute superb movement and add a great number of colors. Bru's dam is our own Naja Hii and her sire is the Lusitano stallion, Fabio (Modico).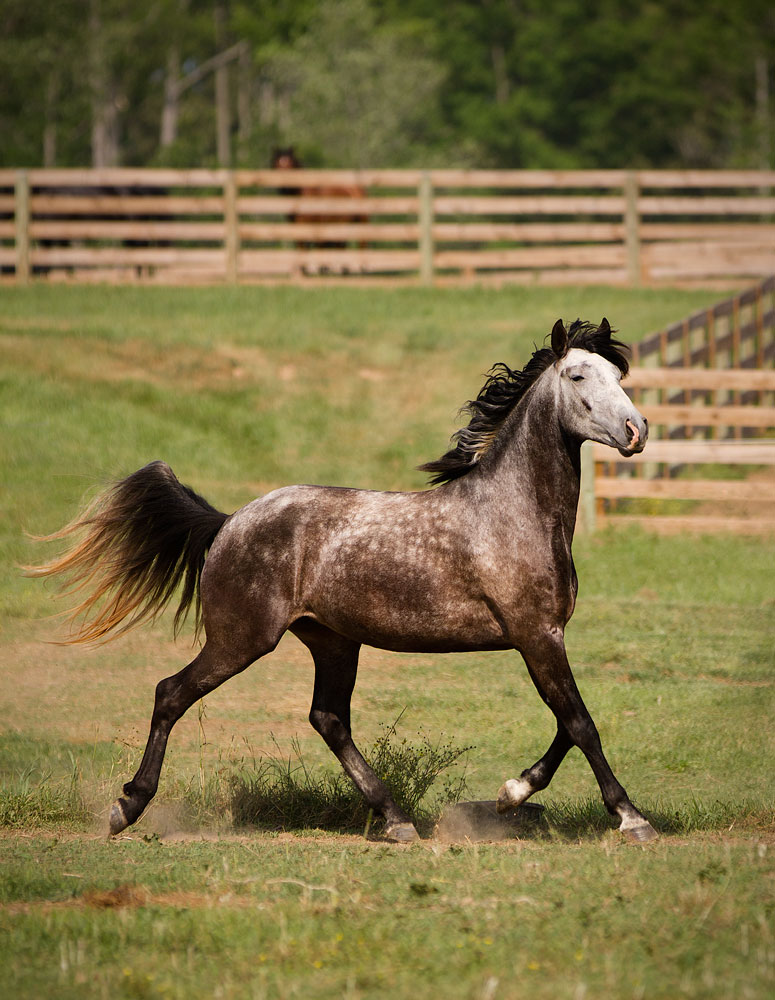 DEM Rayo
Lusitano Gelding

DOB: July 20, 2007
Height: 15.1 hands in Oct. 2011, and growing

Rayo is a gifted horse who demands a relationship and trust. His level of sensitivity and intelligence makes him highly desirable for any discipline that requires an instant response. Rayo wants a job so that he can use his God-given talents for the benefit of his human partner. His dam is our own Naja Hi and his sire is the gray Lusitano stallion Istoso.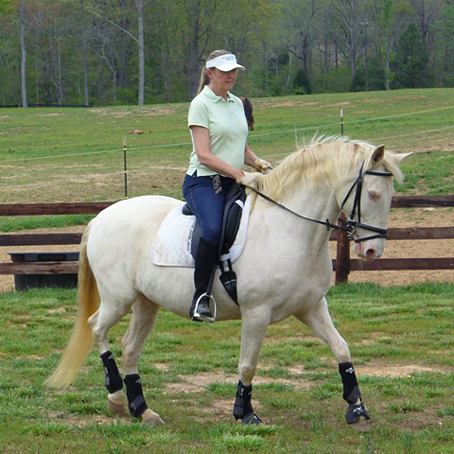 Te Te Va
Puro Sangue Isabella Lusitano Mare

DOB: December 23, 1999

Te Te Va is a beautiful rare cream colored mare. Her sire is Dito who has the bullfighting stallion, Imperador, in his lineage. Her dam, Navarra HM, has Afiancado De Flandes and Paragrafo Top as stallions in her line. Her temperament is unmatched and we have seen her pass this on to her foals. Te Te has given us foals in the following colors, buckskin (see Sereno Real), dark bays (similar to the color of Castaño), and foals the same cream color she exhibits. She is also broke to ride at a walk, trot and canter. Private Treaty only.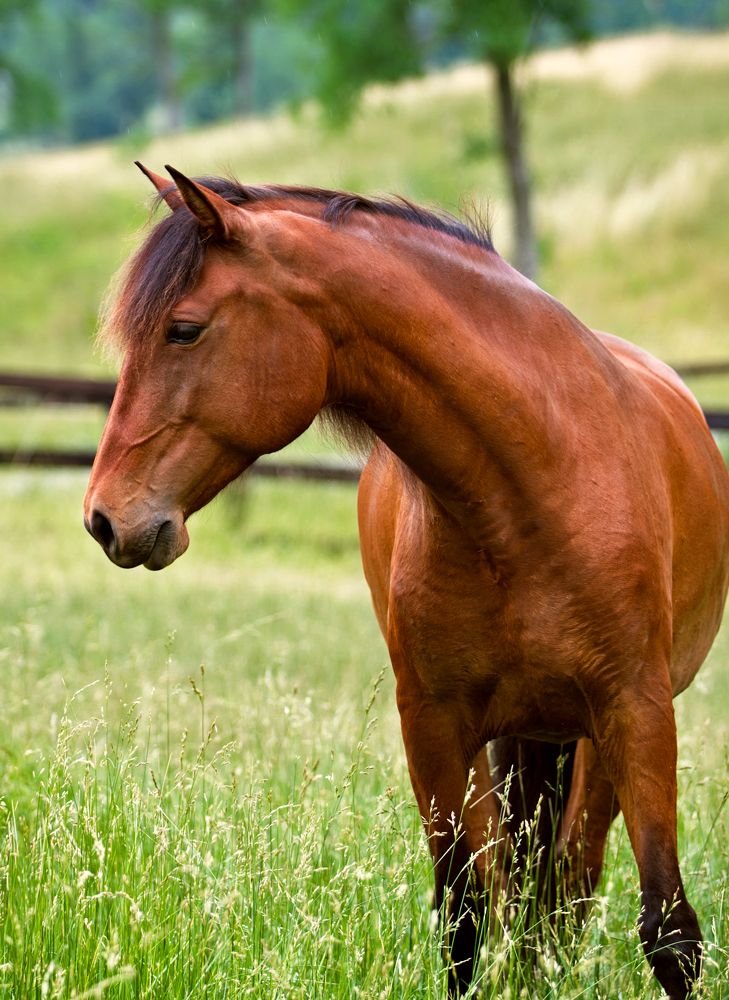 Zafra Do Retiro
Lusitano

Zafra is a magnificent bay mare from the Villa Do Retiro farm in Brazil. Her presence grabs your attention with her soft eye and comely neck. Each foal she has receives her loving disposition and friendly demeanor. She descends from Neptuno and Firme on her sire's side. Firme is the sire of the famous Olympic champion Lusitano, Novilheiro.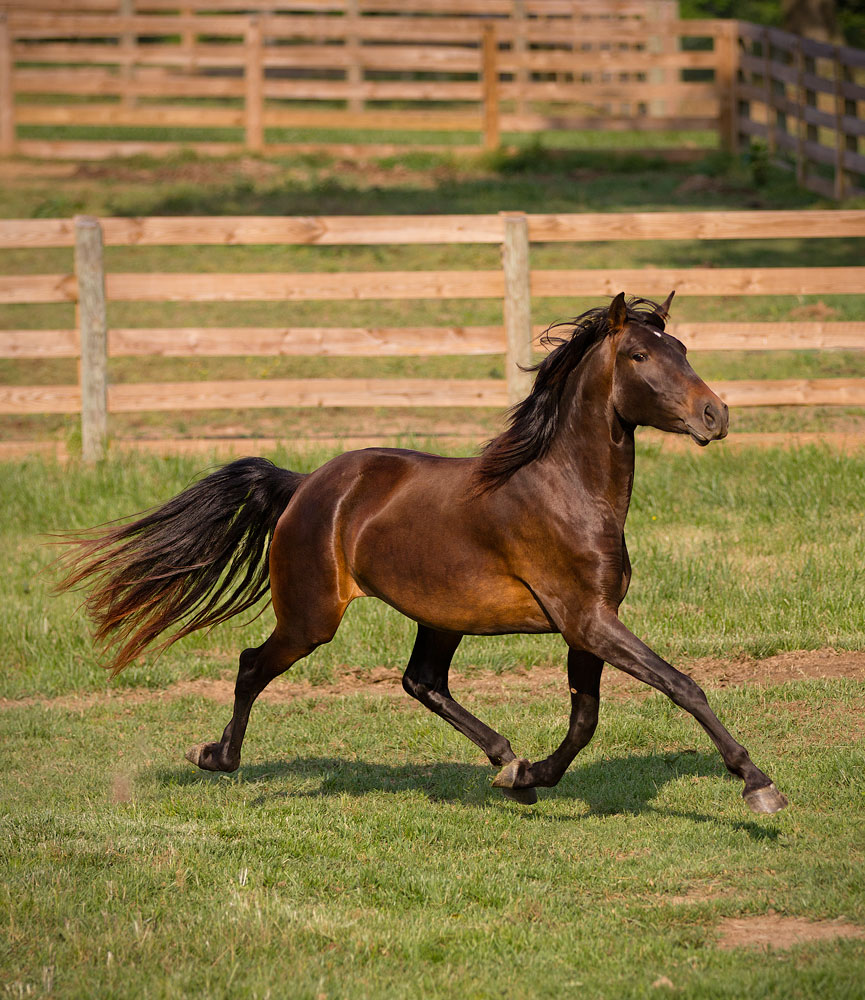 DEM Fresca
Lusitano Mare

DOB: March 30, 2008
Height: 15.2 hands

"I want to be your best friend, forever..." If you enter her field, DEM Fresca will follow you anywhere hoping to find that person who will be her friend forever! She is doing very well under saddle at walk and trot. The canter we have just begun to work on. She is truly a classic Lusitano noted for athleticism, intelligence, and willingness to please. Fresca's dam is Xira do Retiro and her sire, Istoso, have combined to give her height at approximately 15.2. She is s passionate mare looking for that rider who will share the adventure and romance only a true equestrian can experience. And she wants to do it forever.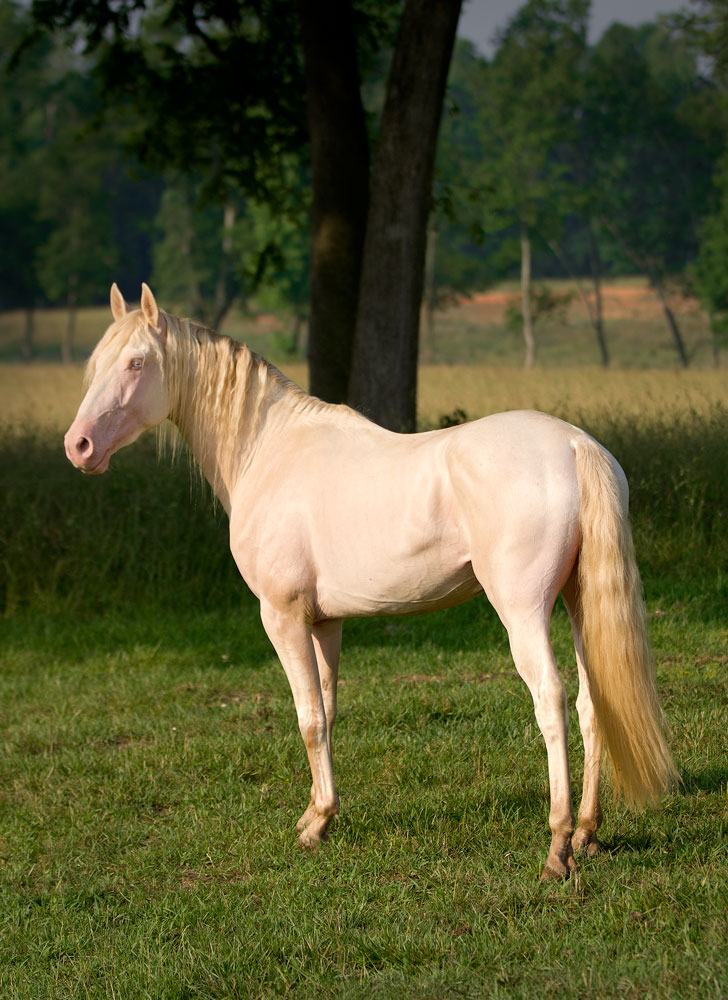 DEM Capernicus
Lusitano Gelding

DOB: June 8, 2008

If you have ever wanted to make an entrance mounted on a beautiful white horse DEM Capernicus is the one for you. This flashy gelding is beginning his training as a four year old in the methods of classical dressage. His exceptional movement and confirmation make him an excellent prospect for the classical dressage program where anyone can engage the graceful equestrian art through the Baroque Equestrian Games. DEM Capernicus' dam is Te Te Va and his sire is Lusiadas. A very personable young gelding, he is seeking his life riding partner.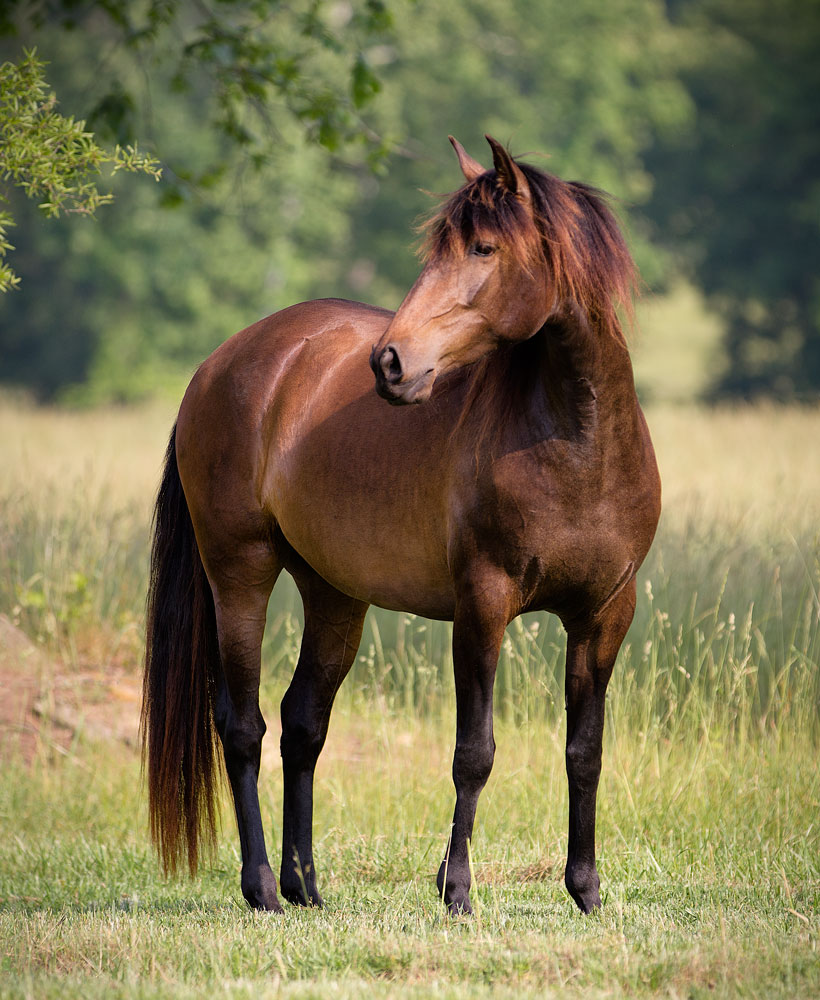 DEM Trina
Lusitano Mare

DOB: April 9, 2008

We are very enthusiastic about this mare and her potential. She is part of a rare blood line that is very special. Her dam is 100% Andrade, Ssirena and her sire Hipogrifo, is 100% Veiga! One characteristic of the Andrade blood line is the "huge" trot this mare has. DEM Trina is in foal to Lavrador and should foal in February. She had some training prior to pregnancy and can be ridden on the trail and in the arena again once she has been lunged and reassessed. She is an easy keeper and very friendly. DEM Trina can be sold in foal, with a baby by her side or separately once her foal is weaned.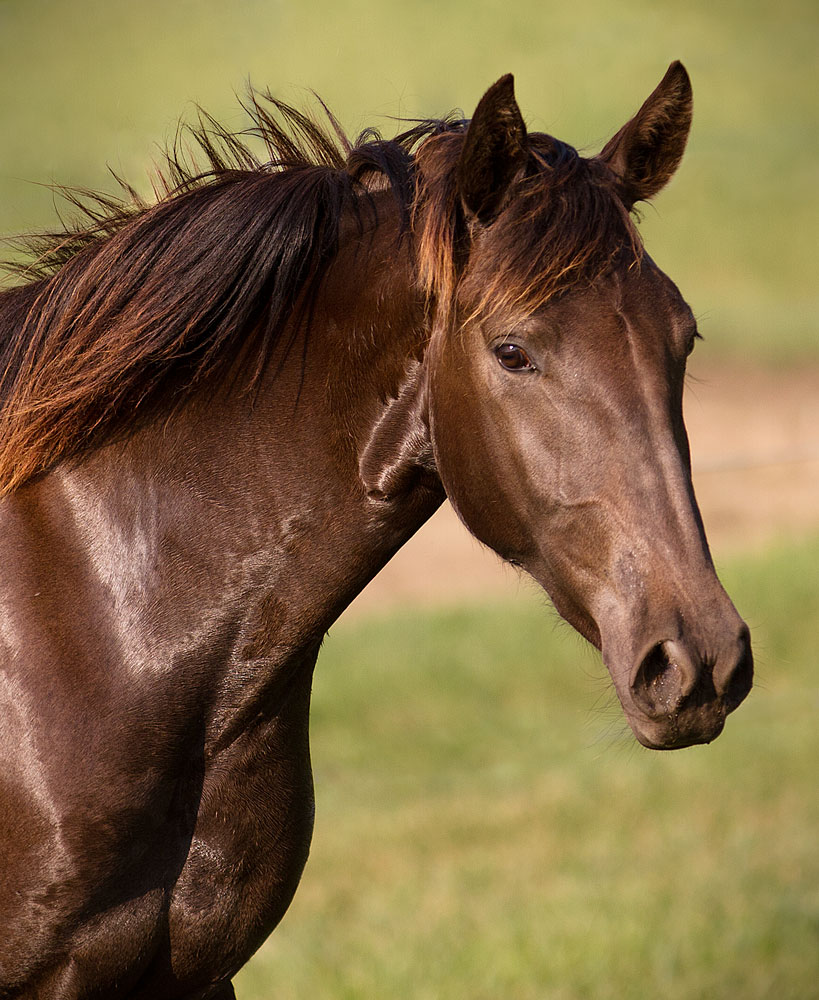 DEM Juliette
Lusitano Mare

DOB: August 10, 2008

Sired by the palomino stallion, Fabio, and birthed by our buckskin, Naja Hi, this mare has the potential to throw babies with very nice color. We were so interested in this prospect that she is in foal (due in April) to Lavrador. Like almost all of our horses, Juliette is in your pocket; well socialized and has some training on the trails and in the arena. She has an excellent disposition and is eager to find her forever riding partner.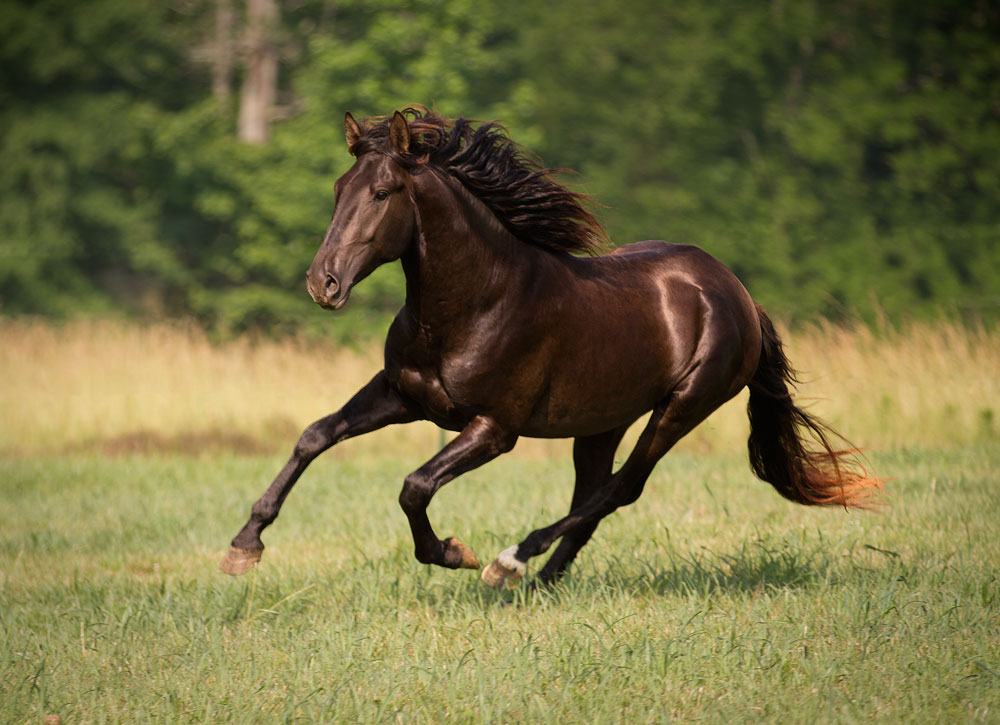 DEM Carlito
Lusitano Gelding

DOB: July 8, 2008

This handsome smoky black gelding stands just under 16 hands and is still growing. He is a sweet horse that tries hard to please and is extremely quick and athletic. When he is finished developing he is sure to turn heads. Extremely athletic, and "sports car quick" the name DEM Carlito even sounds like a sports car. His trainer believes that Carlito would best be served with one competent experienced rider with soft hands that can give him consistency. Carlito is looking for that special bond with his forever riding partner that he can trust wholeheartedly! This is one Lusitano that will need his confidence coming from you. We have him on short success oriented training sessions in the arena adding new things at a rate that allows him to absorb the situation and thus build up his confidence. DEM Carlito's dam is Te Te Va and sire is Hipogrifo.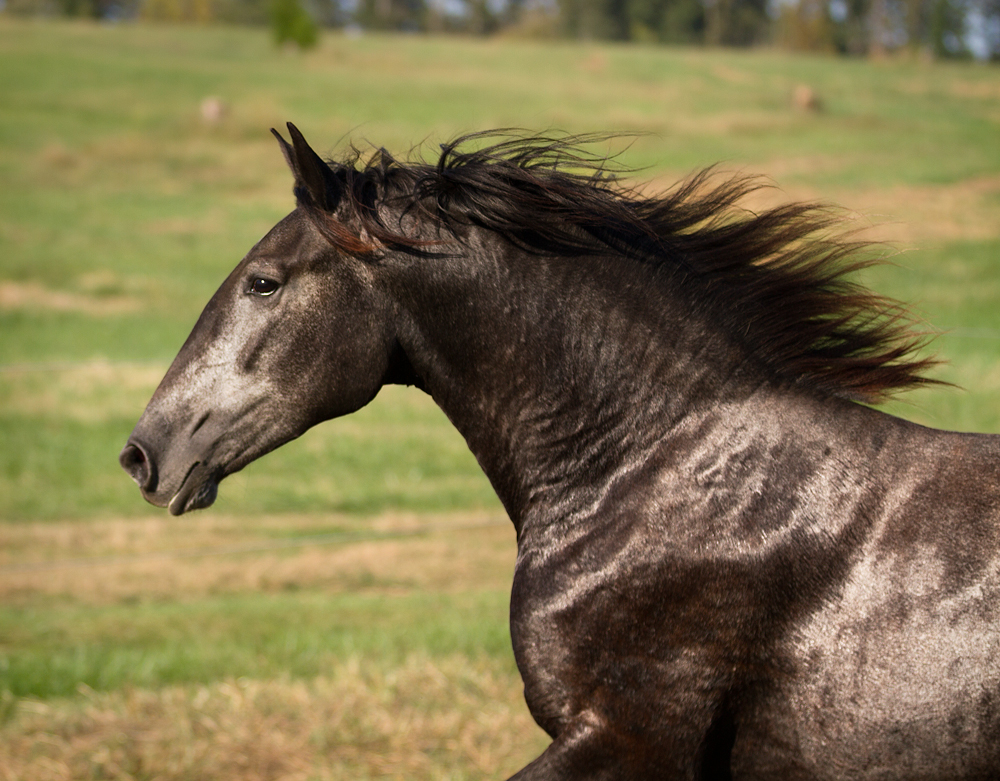 DEM Alegre
Lusitano Mare

DOB: July 12, 2009

This young mare is quite affectionate and gentle. A three year old, DEM Alegre is beginning her training in classical dressage. This mare is strong and passionate whose physical strength and flexibility will compete very well in the dressage ring with the best warm bloods. DEM Alegre's sire is Tejo II and Dam is Tarumandi do Pentagono. She is seeking a riding partner who shares her passion.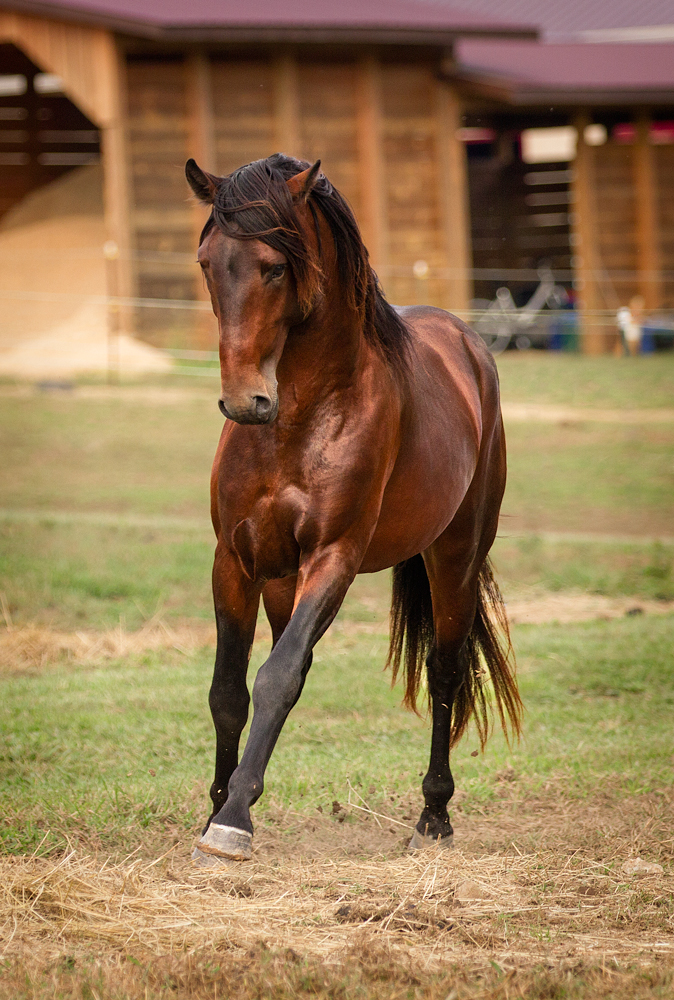 DEM Maximus
Lusitano Gelding

DOB: April 24, 2009

A beautiful mahogany gelding with a gorgeous thick mane, DEM Maximus is beginning his training as a potential dressage candidate. He continues to grow and is quite muscular and strong. Standing at a little over 15 hands, he is extremely compact, swift and elegant in his carriage and movement. A very sociable gelding, DEM Maximus loves people and is clearly looking for his lifetime partner. As a three year old, his training is progressing quite nicely. DEM Maximus' dam is Xira do Retiro and his sire is Tejo II.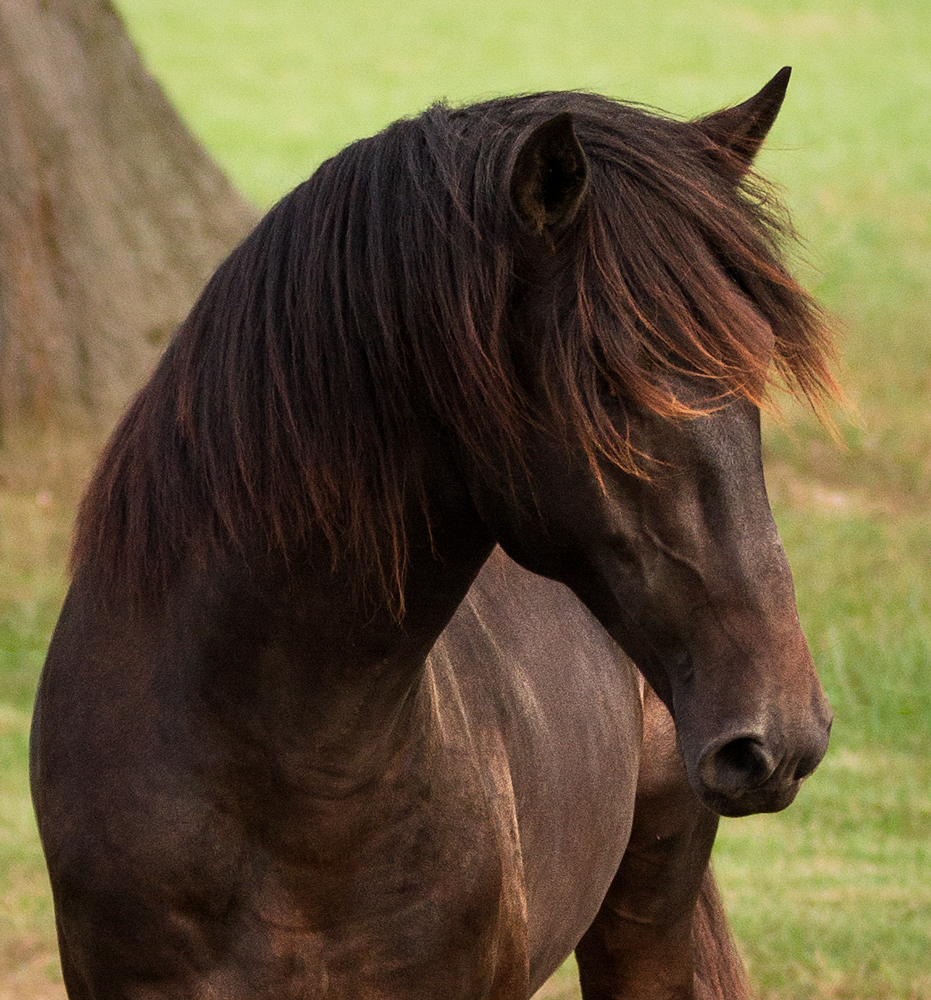 DEM Esplendido
Lusitano Stallion

DOB: April 24, 2009

Affectionately known around the barn as "Goliath" this young three year old stallion is as gentle as he is magnificent. A very interesting attribute of DEM Esplendido is that his mild temperament is a quality that enables him to connect with his rider fulfilling what some say makes Lusitano horses one of the best riding horses ever. At three years old, he is pushing 17 hands. DEM Esplendido is beginning his training in dressage. It is clear that his physical strength and flexibility coupled with his passionate and calm character will allow him to compete exceedingly well in the dressage ring against some of the best Warmbloods. DEM Esplendido's sire is Tejo II and his dam is Tarumandai do Pentagono. He is a major candidate for our breeding program.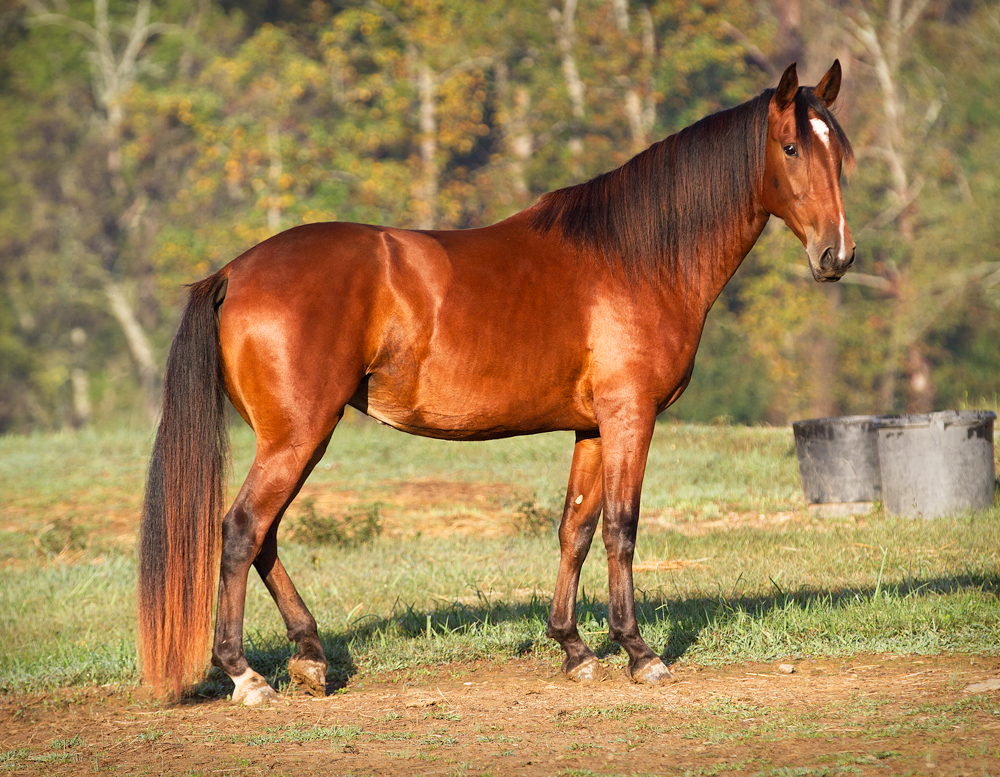 DEM Pei Ley
Lusitano Mare

DOB: August 19, 2009

An exceptional bay mare, we believe that DEM Pei Ley could compete in a broad range of events from eventing, jumping, and dressage should that be your pleasure. Her dam is our 17 hand Tarumandi and her sire is Tejo II. At three years old, she exceeds 16 hands and still growing. She is an honest mare, very friendly and appreciates personal attention. DEM Pei Ley sports the unique Baroque nose common in the classical Lusitano. This beautiful bay mare is a star. Some on our staff believe she should not be sold, but integrated into our breeding program. As her training progresses, we will make that determination.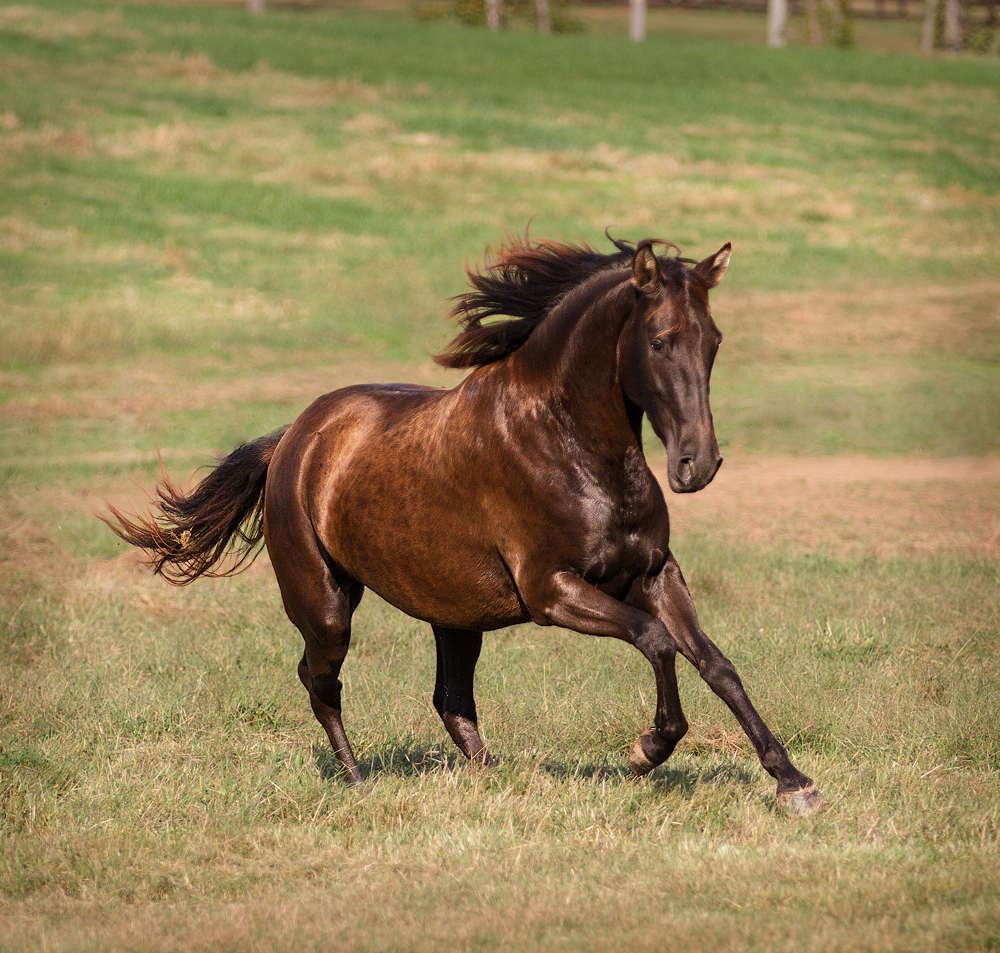 DEM Lexus
Lusitano Mare

DOB: July 6, 2009

This beautiful smoky black mare stands about 15.2 hands and is still growing. This mare has all of the qualities of a classic Lusitano able to compete in every area of equestrian competition; dressage, eventing, western. A very sociable mare, DEM Lexus loves people and is clearly looking for her lifetime partner. As a three year old, her training though just beginning is progressing quite nicely. She will make someone a very impressive mount. DEM Lexus' dam is Te Te Va and sire is Hipogrifo.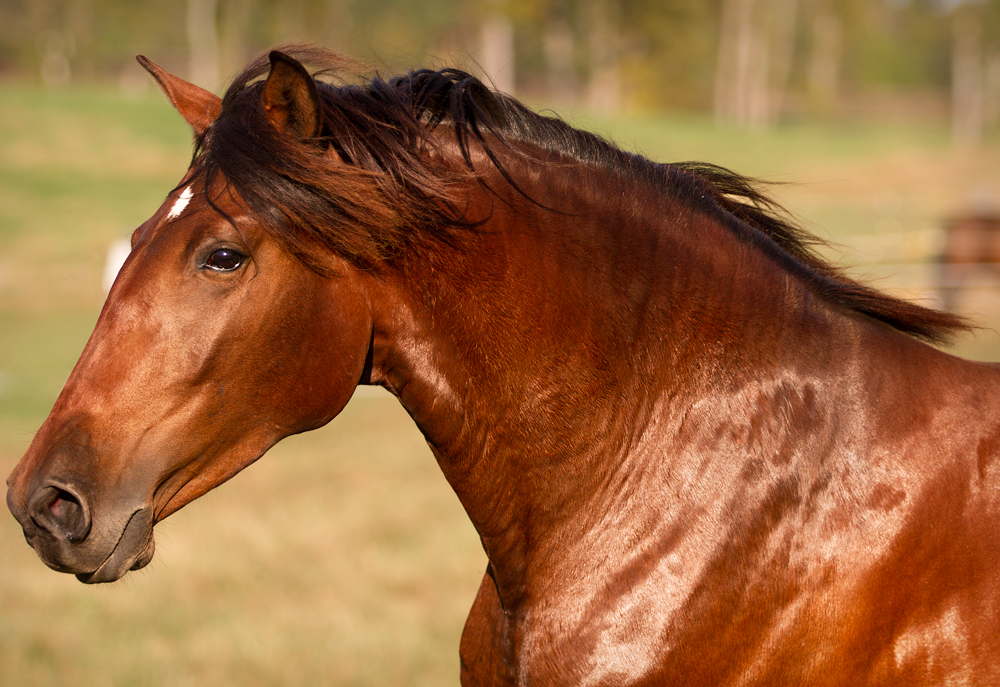 DEM Princessa
Lusitano Mare

DOB: May 29, 2009

Born from our Brazilian imported mare, Zafra do Retiro, and her sire Tejo II , DEM Princessa, it is clear that she represents the Lusitano breed well! She is developing powerful hindquarters, a muscular, arched neck, and an unusually full, thick full mane and tail. Very personable, she is first among her pasture mates to greet anyone entering the field. She clearly wants her own person to bond to and grow with. At three years old her training is coming along quite well. A very outgoing young mare, she is seeking her life riding partner.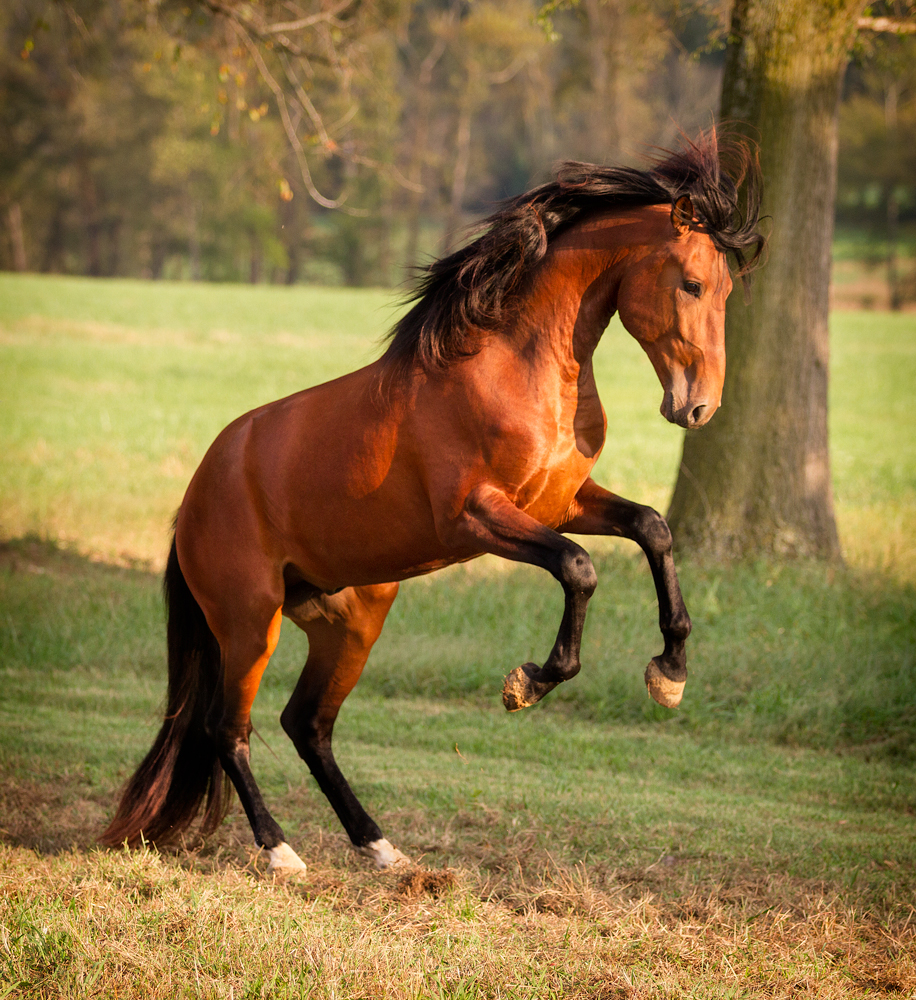 DEM Troubadour
Lusitano Stallion

DOB: April 8, 2009

"One hundred percent athlete." That was the description a horse trainer used to describe DEM Troubadour. This stallion has all of the qualities of a classic Lusitano, able to compete in every area of equestrian competition, dressage, eventing, and western events. His dam, Ssirena, is 100% Andrade, which we are told is rare here in the states. His sire Lusiadas is 40% Vega and 20% Andrade. The combination provides an extremely agile and athletic horse. DEM Troubadour is in training and may become one of Don E Mor's breeding stallions in the future. He is flashy, he is handsome and he is energetic. This young stallion has a grand future ahead of him.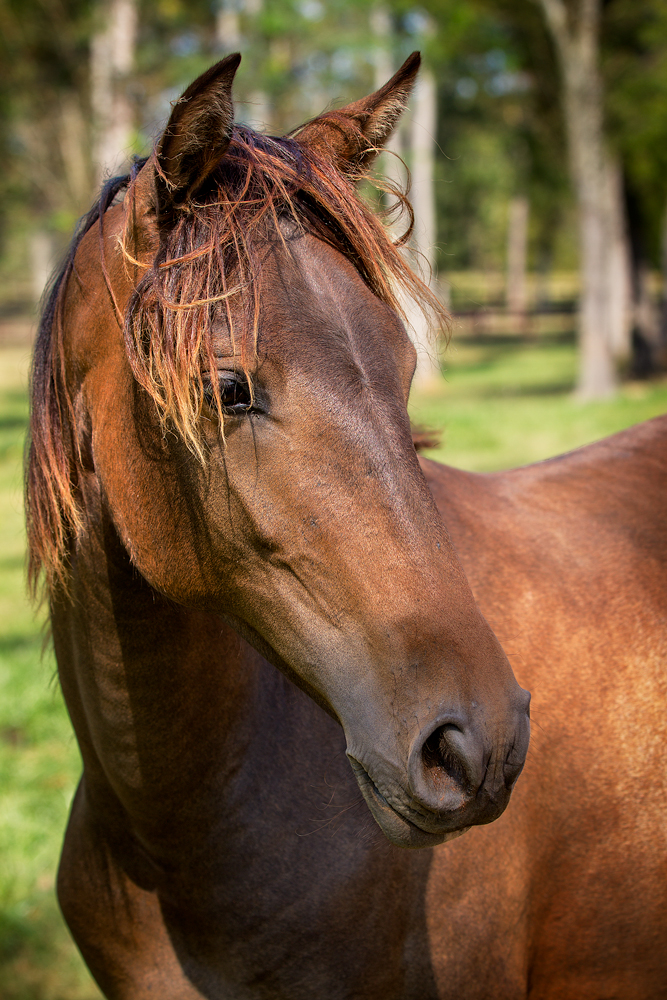 DEM Andromeda
Lusitano Filly

DOB: April 23, 2011

Most of our young fillies and colts are very friendly as we conduct socialization training in the field or barn. DEM Andromeda, however is especially friendly...some on our staff call her the "puppy dog." Her sweet disposition is just a start. This young filly has a lot going for her. Sired by 16.3 hand Bariloche do Arete and foaled by our 100% Andrade mare, Ssirena, DEM Andromeda has presence and moves that will please any crowd. Although we have several older mares that will make excellent breeding stock, at one year old she has already been identified as our best candidate filly from the 2011 herd. Nevertheless, if this is your horse and she chooses you, we will honor her decision.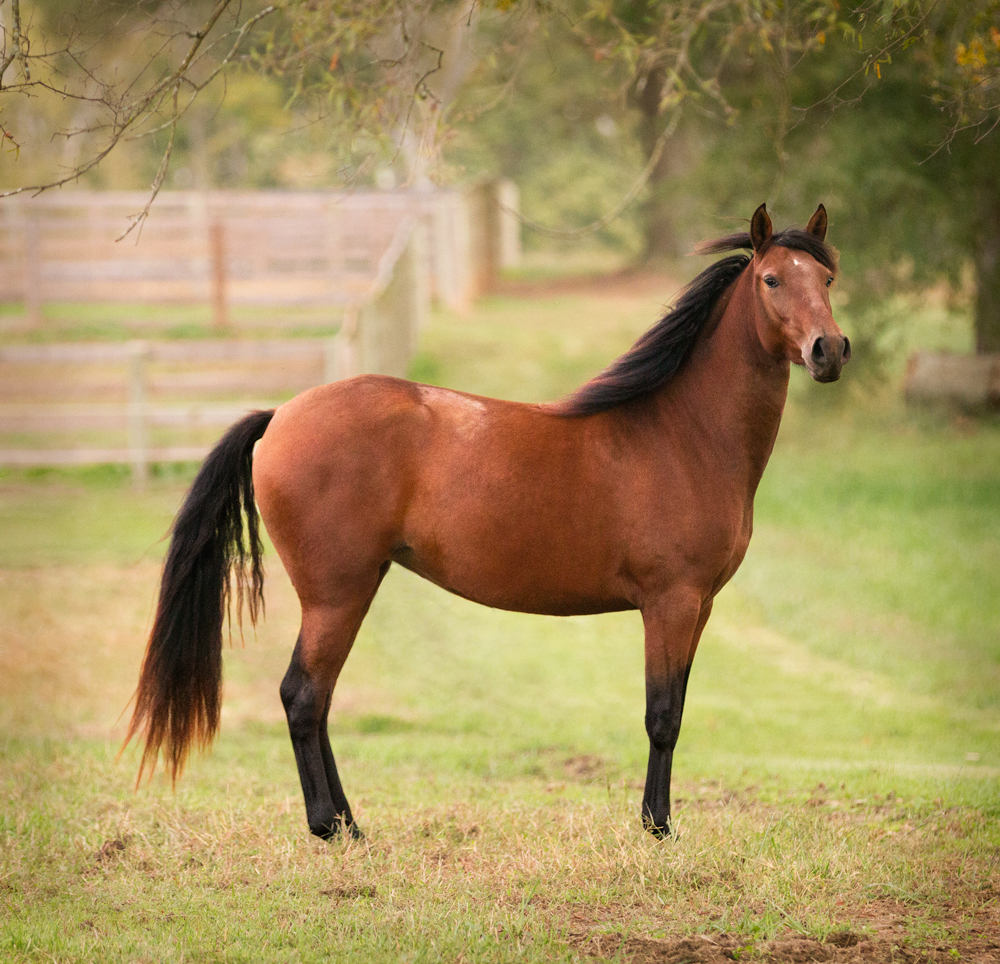 DEM Lucia
Lusitano Mare

DOB: April 5, 2010

DEM Lucia is the full sister to one of our premier stallions, DEM Troubadour. Sired by Lusiadas with a 100% Andrade dam, Ssirena, DEM Lucia has the right genes, confirmation and moves to make her proud owner a star in competitive dressage. Her wonderful temperament and desire to be around people will make this young mare a very special riding partner as she matures and discovers her passion. This one of a kind bay mare has been nominated as one of our breeding mares. However, should she fall in love with a person who can take her to the highest levels of competition, we would be willing to negotiate a deal allowing her to fulfill her potential and then give us a few babies afterward.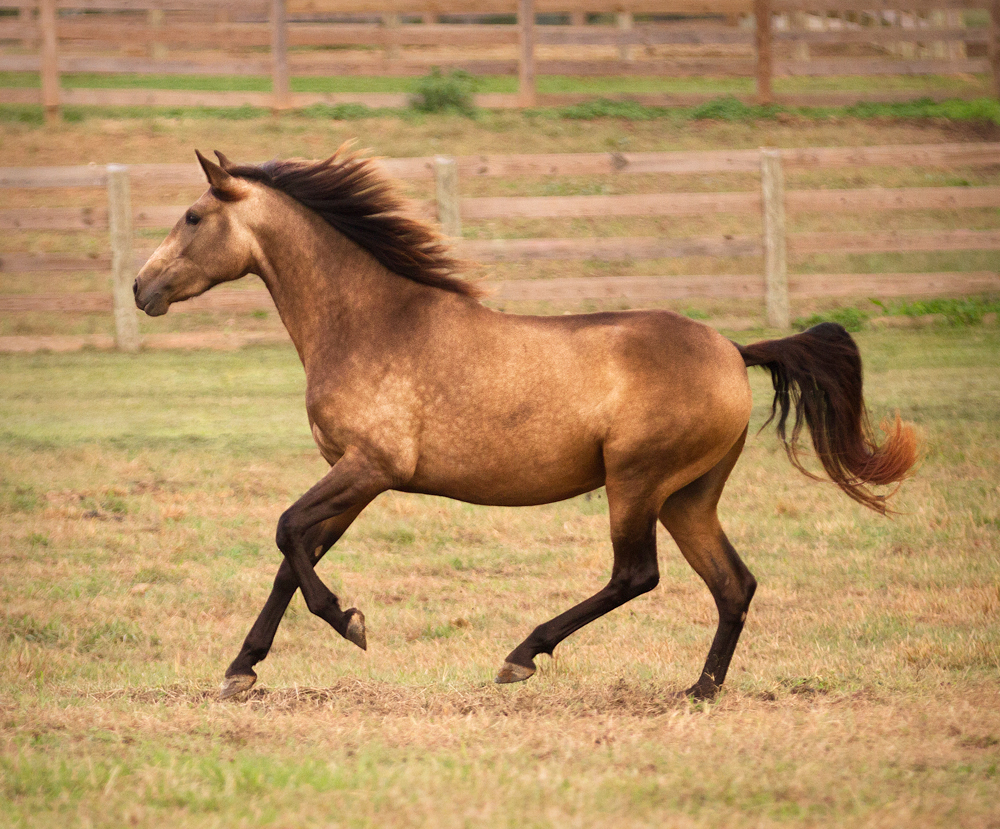 DEM Xarrie
Lusitano Mare

DOB: May 20, 2010

This beautiful dapple buckskin mare gets her color from her mother, Xira do Retiro and her temperament from her sire Bariloche do Arete. She is looking for opportunities to please her person. Compact and athletic enough to enjoy competition yet laid back enough just to enjoy a trail ride, DEM Xarrie ("Sherrie") is itching to get started on her career. She will begin her formal training in the summer of 2013 should the right person not come along and take her to her new home. Xarrie seeks human attention and companionship whenever people are around her. With her enthusiasm and athleticism, she will certainly try very hard to master whatever discipline her life partner chooses.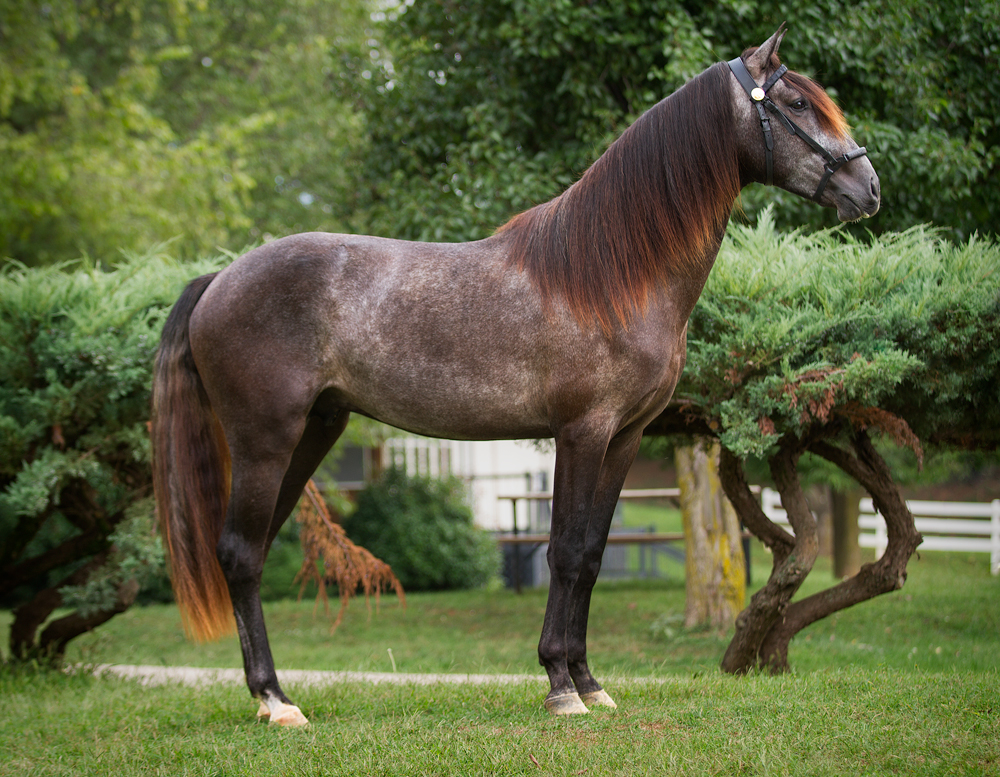 DEM Leon de Regalo
Lusitano/Andalusian Colt

DOB: May 7, 2011

DEM Leon de Regalo is the only colt that we know of from our stallion DEM El Regalo! People from the Spanish riding school in Jerez, have stated that DEM El Regalo's confirmation was perfect for a PRE Andalusian. A standout in the 2011 herd of colts, DEM Leon de Regalo combines the best attributes of the Lusitano/ Andalusian breed. He inherited his wonderful temperament and the graceful moves of his father DEM El Regalo. As a one year old, DEM Leon de Regalo already is an excellent competition candidate in different forms of dressage. For now he is responding very well to his socialization training involving leading, loading, grooming and foot care. This young colt will combine physical strength, robust movement and a wonderful temperament fulfilling what some say makes Lusitano horses one of the best riding horses ever.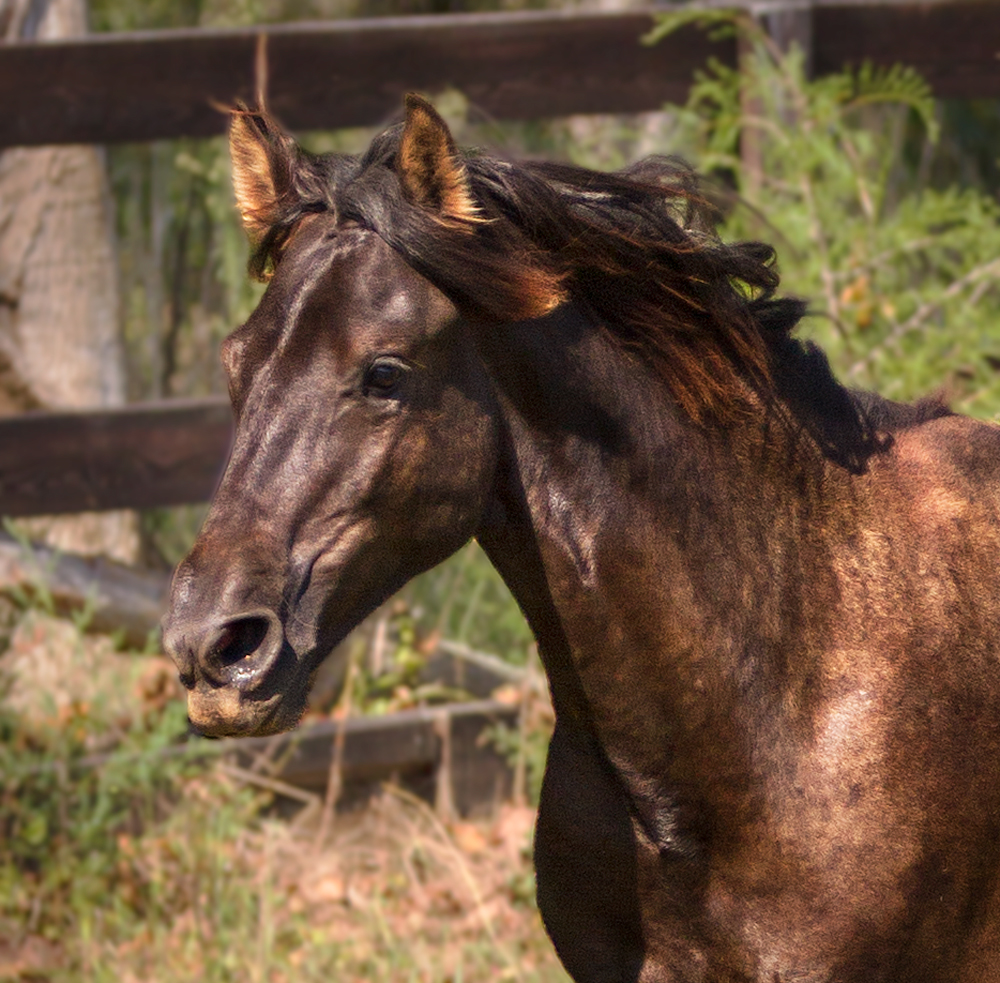 DEM Salvador de Noche
Lusitano Colt

DOB: June 5, 2011

DEM Salvador de Noche is one of our few Lusitano/Andalusian cross horses. His dam is Noche Paloma and Sire is PRE Luna Eclipse. Salvador is going to be a big boy. Already pushing 15 hands as a one year old, his father clocks in at 17 hands and mother at 16.2. This young black colt is very friendly and has taken well to our socialization training. He will be an extremely agile and athletic horse for his size. Both parents have large necks and flowing manes and tails. We expect the same from him. He believe he will do well in either classical dressage such as in the Baroque games or in competitive dressage.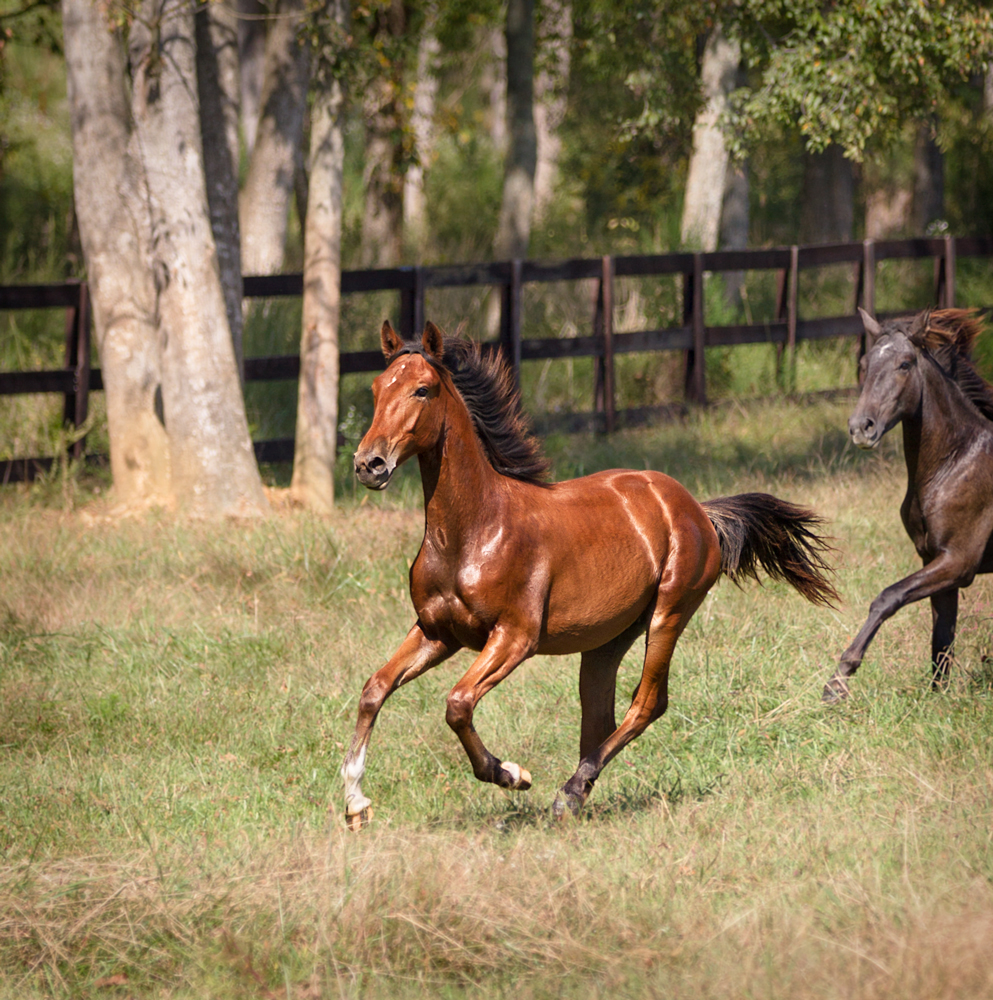 DEM Tarjo
Lusitano Colt

DOB: September 24, 2011

DEM Tarjo is a full brother of our Pei Ley. Sired by Tejo II and foaled by Tarumandi this beautiful bay colt who is full of energy, is very friendly. Tarjo is growing quite quickly and taking to the breeding program's socialization training. We have observed that he likes to run and jump and may be a good eventing candidate...we must await his decision as we continue his training however. Like a young child, he really doesn't know yet what he wants to be when he grows up. If his older sister Pei Ley is any indication, he will be a head turner.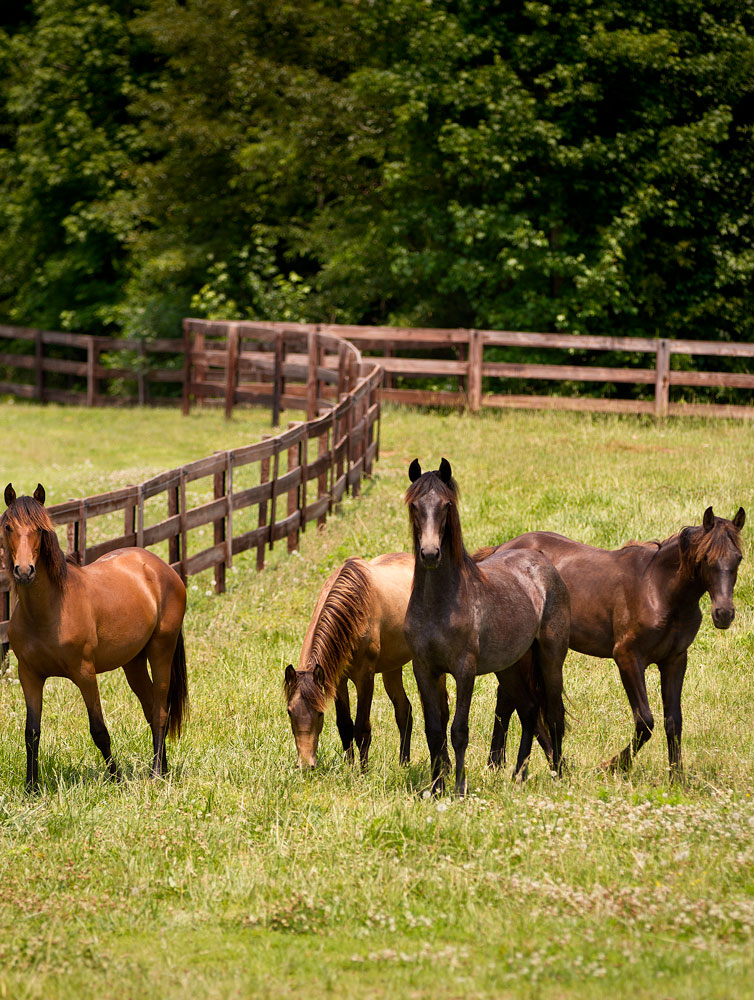 Don E Mor Yearlings
Lusitanos

DOB: 2012




Please give us a call for more information on our yearling colts and fillies!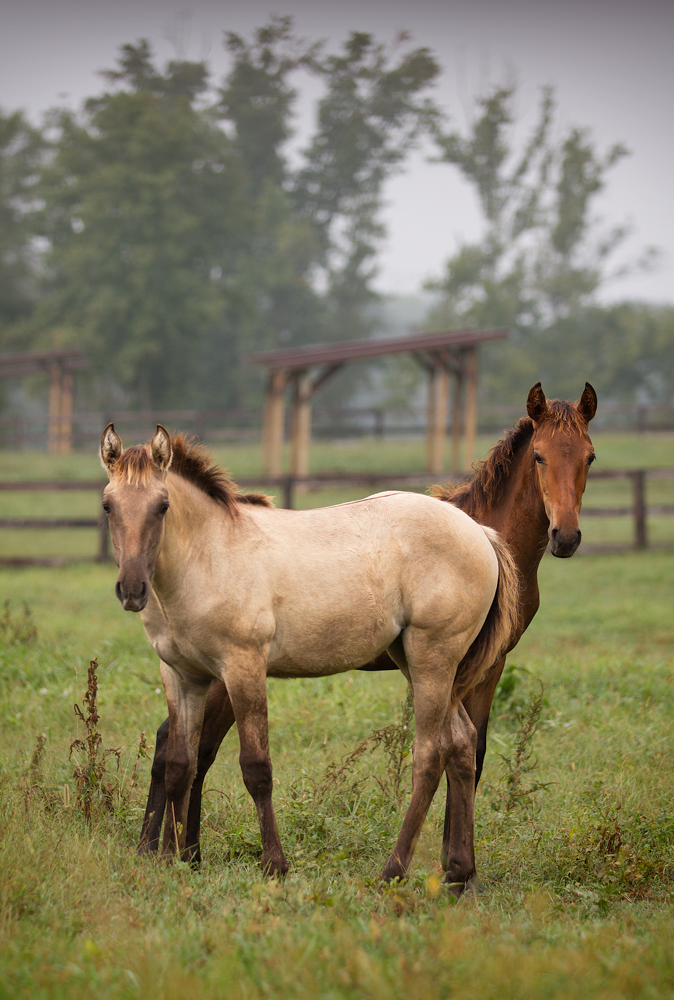 Don E Mor 2013 Foals
Lusitanos

DOB: 2013




Please give us a call for more information on our newest colts and fillies!